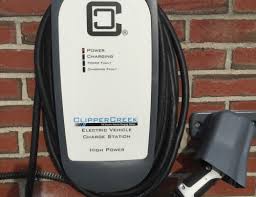 The TCNJ Electric Vehicle Chargers are located on the first floor of the Metzger Garage (Lot #7), located in front of Lions Stadium. There are ten parking spots with ten chargers mounted on the wall in front of the green reserved parking spaces. Normally, the Electric Vehicle Chargers can charge up to ten vehicles per day. The average charging time is about 4 hours. Please move your vehicle once charging for 4 hours so others can use this service.
Instructions for Charging Vehicles
Pull into one of the ten charging stations, unwind the charging coil mounted on the wall, and plug it into the vehicle.
The charger will then begin to charge the vehicle. When the stations are at full capacity, all fully charged vehicles must be moved to allow for others to utilize the charging stations.